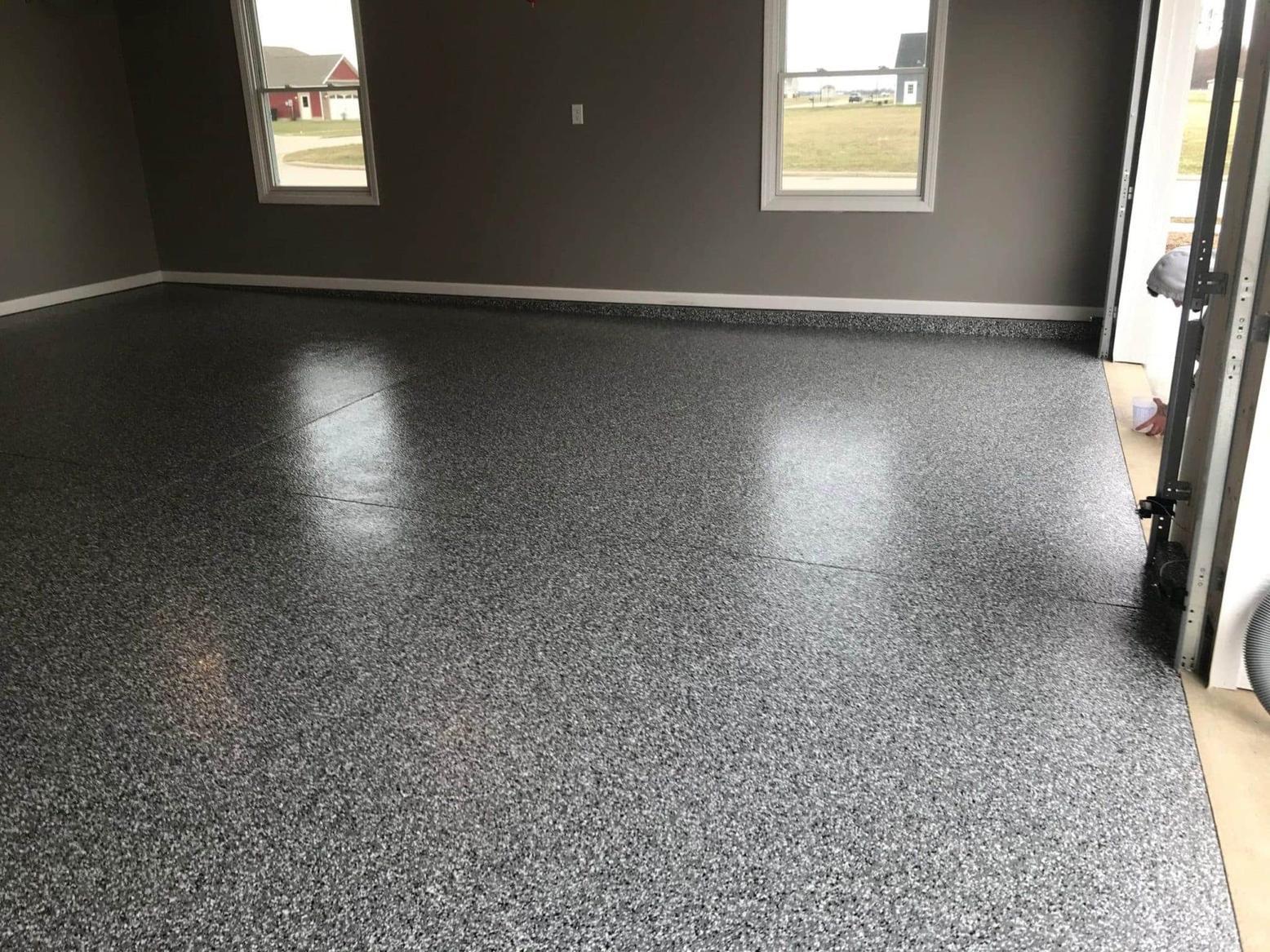 Ogden Utah Epoxy Floors
Choosing a custom epoxy floor coating provides an effective solution for indoor surfaces in commercial and residential buildings. Epoxy coatings are the perfect option for garage floors as well as other spaces that see heavy traffic and heavy impact. Floor coating systems provide a smooth and durable surface that comes in a variety of colors and blends to provide your indoor space with a beautiful finish. That said, there are also a lot of downfalls to these coatings as well. If you are looking to apply an epoxy coating, we recommend finding a company that specializes in them. 
Epoxy material may not be the best option depending on the type of area the floor is in. Epoxy is primarily used in indoor areas since it is not UV resistant. The colors of the floors can easily fade and change over time when overexposed to sunlight. Epoxy floor coatings can be good for certain interior projects, but the issues that come with epoxy garage floors may not be worth it.
Hot tire pickup is also a very common issue with epoxy floor coatings and can lead to costly expenses for repairs and maintenance of the floor coatings. Epoxy is also known to break down when it is consistently driven or walked on, so when choosing a custom coating, keep in mind where the epoxy will be applied.  
Our team at Solid Garage Floor Coatings recommends a strong durable coating for garage floors. Which is why we offer polyaspartic and quartz coatings as well.
Advantages of Epoxy Coatings
While epoxy floors can be a great solution in select situations, we do believe there are better options that are more reliable for you. If you are positive an epoxy floor coating is the right choice for you, then we would advise you to find a company that specializes in the application of epoxy floor coatings. Solid Garage Floor Coatings wants to provide you with the highest quality coating that fits your situation. Here are the honest positives and negatives of epoxy floor coatings:
Pros of Epoxy Floor Coatings
Easy to Clean
Durable
Glossy and smooth finish
Great for commercial and residential spaces
Many options of finishes
Resistant to chemicals
Cons of Epoxy Coatings
Slippery
More time consuming installation
No UV resistance
Curing can be difficult
More expensive
Hot tire pickup
Not resistant to scratches and scrapes
Contact the Best Epoxy Floor Coating Experts Today
Coating garage floors with epoxy may not work for everyone, but our team at Solid wants to provide you with every option that is available. You can learn more about what we offer and read through our FAQs to learn more about concrete coatings before you hire a company to apply for one. 
If you are looking for qualified advice and quality application, choose to work with our team at Solid Garage Floor Coatings. We can provide you with insight and clear communication throughout our application process. We can provide insight into what material and color will be best for your project. With many options for texture, chip colors, and top coats, the options are endless when choosing a floor coating. Let us improve your commercial or residential space. 
Our goal is to protect your home, so we communicate with you through the whole process and recommend only the best coatings for your home. Only with Solid Garage Floor Coatings will you get effective service in the shortest amount of time. We can apply custom floor coatings in just one day, which gives you access to enjoy your spaces sooner. 
Concrete floors go through a lot, we understand that taking care of them can be hard. Durable floor coatings improve the look and ease of your home. Contact us to schedule an application today. Coat your garage floor in just one day with Solid.