Utah's Best Epoxy & Polyaspartic Garage Floor Coatings
1-Day Transformations
Concrete Coating in one day!
7 am

---

Preparation & Grinding

9 am

---

Concrete Restoration

10 am

---

Base Coat & Chip Application

12 pm

---

Setup Time

1 pm

---

Scraping

2 pm

---

Top Coat
Love your garage!
Ogden and Northern Utah Garage Floor Coatings
When you open your garage door are you often underwhelmed by the look of its interior?  Solid Garage Floor Coatings of Utah can restore the concrete and make you LOVE your garage again!  Transform and protect your garage floor with a durable coating that looks great, lasts forever, and is easy to clean.
Utah's Best Garage Floor Coating Company
Solid Garage Floor Coatings in Ogden Utah stands out from our competitors with our excellent workmanship, service, and expertise. We provide a variety of garage floor coating services for any type of surface that needs it. From commercial to residential spaces, we have the expertise and experience needed to rejuvenate your floors and help them last for years to come. Our mission is to provide the best floor possible in the least amount of time and within your budget. We guarantee that we are the team you want to work with to make your dream floor project a reality. 
We offer the highest quality garage floor coating in the industry
Lifetime Warranty

To ensure you are 100% satisfied with the finished project, we provide a lifetime warranty for all our coatings. We guarantee that you'll have the floor of your dreams when we get done, but if you aren't completely satisfied with our work then we won't charge you.

Done in One Day

We don't waste your time and strive to complete all floor coating projects in one day. We know how inconvenient it is to have to stay off your floors, which is why we work hard and fast so you don't have to wait longer than a day before you have your floors back.

Top Notch Service

We strive to provide the highest quality products, workmanship, and service to every one of our customers. We hire only the best employees who are polite and will respect you and your property as if it is their own.  Contact us today!

Best Products

We only use the best products, materials, and equipment on the market to ensure your floor coatings last as long as possible and have high performance. You pay for quality when you choose to work with us, and we are confident that you will have an excellent experience.

We Give Back

We partner with you to give back to your favorite charities such as the Oxalosis & Hyperoxaluria Foundation, Wounded Warrior Project, and Best Friends Save Them All. Help yourself and others by working with us for all your garage floor coating needs.
We use the same product to protect your garage that many big-name brands use to protect their dealerships and factories.
Client Testimonials
What a great company! From contact to free bid. They have been so good at communicating, scheduling, and quality was great. They kept the project moving smoothly. Such nice guys!
From the initial meeting with Aaron, who was very friendly and gave us a great quote, to Kaden and his crew, who were here when they said they would be and worked and completed the job in one day, the whole experience has been great. They took a 50 year old concrete floor that was starting to spall and had a few cracks and made it look brand new. We are very happy with the outcome and would recommend them to anyone.
Quick, knowledgeable, clean and professional.
The gentlemen that came to do this job were fantastic. Explained everything to me. They moved out the heavy things that I couldn't move & then came next day to move it back in. The garage floor is absolutely beautiful. It really makes a difference. I would highly recommend this company to anyone considering having their garage floor coated.
A+ job. A great crew to work with.
Steve Peterson
2022-10-18
Completely satisfied with my new garage floor coating. Crew showed up when they said they would, and finished on time. I would highly recommend this company.
Started doing floor myself. Called Victor with Solids after realizing I made a mistake. He gave me a bid, which was the same price what I could buy the product myself. I had them come finish my project. They was on time. Worked hard, great friendly guys. I did have an issue with the product not setting up. Called Victor. He came out in a timely manner. Fixed the issue. Amazing service!!!.
Cyndi Marcheschi
2022-10-05
Victor came and meticulously prepared and sealed the joints and cracks in our driveway and sidewalk and it looks great! He also filled some cracks in the mortar of our brick, which we really appreciated.We did not feel confident to tackle this project ourselves, and we feel it was worth it to have a professional do it right!
My floor is great! Very strong! I remodeled my garage after floor was finished. I dropped hammers, spilt contractors glue, wood stainer, etc. Neither of these did not effect floor. Floor didn't chip after dropping hammer on it several times. The contractors glue and wood stainer remained on floor for two weeks. I intentionally let them stay on floor to see the outcome. The wood stainer wiped up like it was water. I poured water on the glue and it peeled off the floor in a matter of seconds! I love it!
View More Testimonials
What's the Difference?
Polyaspartics vs. Epoxy
Polyaspartics are a very popular choice for garage floor coatings. Polyaspartics are a flexible material and is often much easier to apply, and the level of durability is next to none. Epoxy garage floor coatings offer a strong protective barrier on the surface in a variety of colors. While there are advantages and drawbacks to each type of coating, which will work best often depends on the surface and use.
Polyaspartics vs. Polyurethane
Polyurethane coatings have a high resistance to acids, but can be difficult to apply with their sensitivity to water and humidity. Polyaspartics are an excellent choice for projects in a variety of temperatures, and the garage floor coatings cure fast so you don't have to be without your garage for long. However the fast cure time can make them difficult to apply as well. These two coatings are in fact very similar and the best one to use often comes down to service time, temperatures, and budget.
Polyaspartics vs. DIY Coatings
Polyaspartics are an excellent choice for garage floor coatings and provides a fast cure time. This material is also impact resistant, UV resistant, and waterproof. DIY garage floor coatings can be very difficult and do not always guarantee success. Depending on the materials you choose, more maintenance and repairs may be needed in the future to fix the damage done by improper application.
Every time we coat a floor, we donate a portion of our profits to a charity.
With the help of customers like you, we've been able to raise over $18,000 for non-profits like Wounded Warrior Project. As a veteran-owned company, we feel supporting this cause is of great importance.
Learn More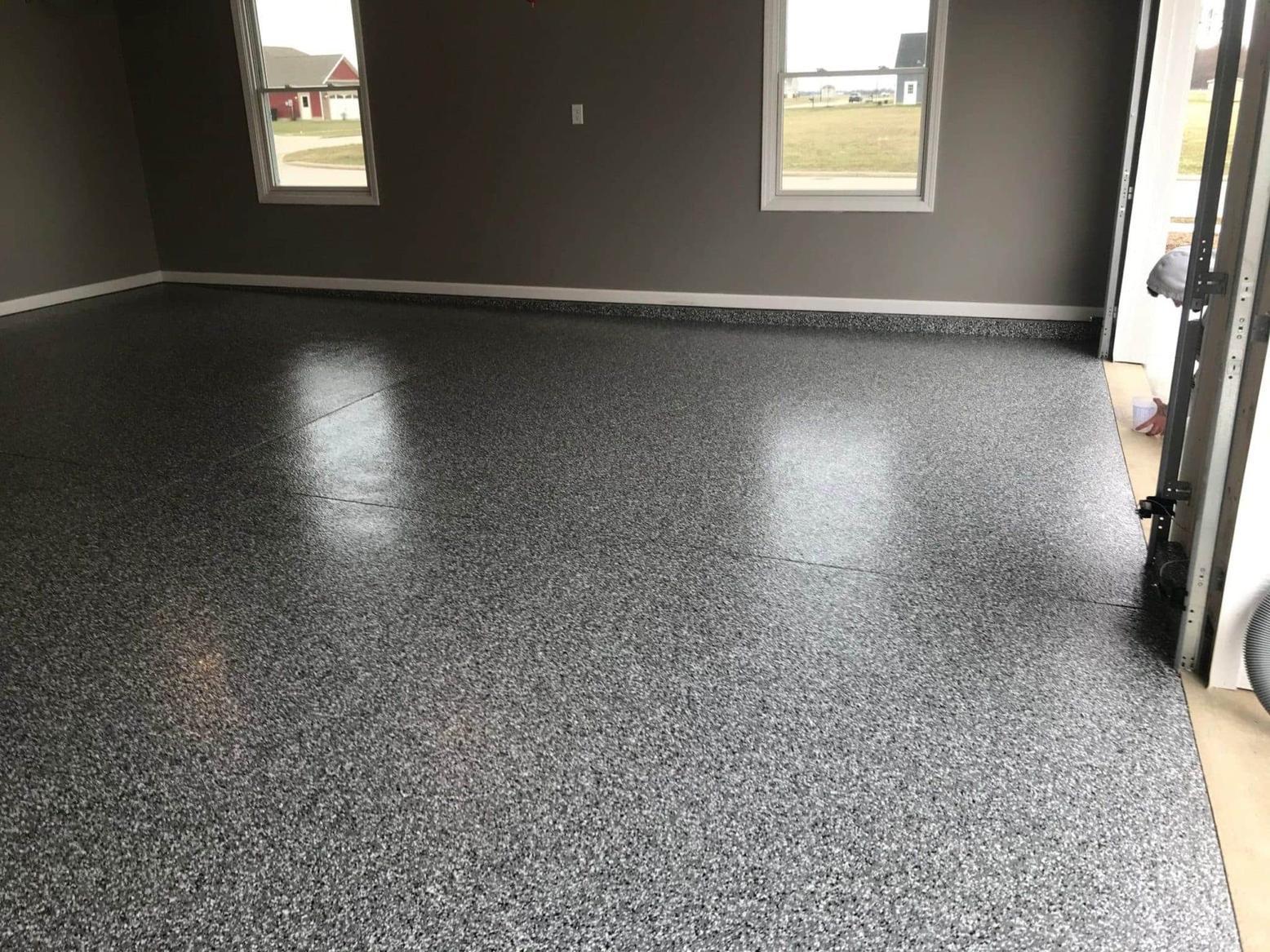 Garage Floor Coatings FAQ's
How long does the garage floor coating installation process take?

Our typical garage floor coating installation usually takes one full day, although some variables may take longer. Anything larger than a 3-car garage or if a moisture barrier is required on the floor, this will usually add an additional day to your install.

Does the installation create a lot of dust?

The simple answer is NO, all of our grinders are connected to vacuums with industrial strength HEPA filters. This allows us to suck up the dust and debris as we grind the surface, often leaving the garage floor cleaner than when we started. You hired us to make your garage a dream, not a dirty mess.

Who's in charge of emptying my garage?

We do require your garage to be empty before we arrive the morning of your install. In order to keep man hour costs down and for insurance reasons we do not help empty your garage.  Most of our clients have either done it themselves, hired a neighborhood teen in need of money or hired a moving company.

What should I do with my the contents of my garage?

We have had customers do a variety of things with their belongings. Most just put their stuff in the back yard and cover with a tarp for a day. Others have rented or borrow a trailer or pod for a day to keep things more secure.

How long until I can use the floor?

You will be able to walk on your new floor in 4-6 hours after installation. You should wait 12 hours to move lighter garage contents in and 24 hours before moving in anything heavy like a car, fridge, or toolbox.

Do you offer any warranty?

Don't wait to obtain the floor of your dreams. We guarantee that you will be 100% satisfied with the finished project or we will not charge you. We passionately believe that if we aren't able to provide you with the garage floor coating solutions to meet your requirements, implement a high-quality product, and provide you with a superior experience, we haven't provided the value that we strive to.

What if my garage floor needs some repair?

When we do your garage floor coating, we can fix most surface issues like pooling, chips, and cracks. We just need to make sure they are not part of a more systemic issue of the concrete itself. If that is the case, there are still more aggressive repairs we can do. When we do mend issues, we use a concrete patch and crack fill that becomes five times stronger than the original concrete, so the issue does not come back.

Can you only do garage floors?

We can do concrete coating on most surfaces on both interior and exterior applications. We have installed on patios, garages, basements, pool decks, commercial kitchens, and more. Just ask us and we will let you know which flooring material is best for what you are wanting.

How does your product compare to all of your competitors?

There are so many options out there, so we understand this question and the confusion caused. Here is a brief overview of the various garage floor coating products out there. More in-depth comparisons can be found within our site and FAQ page.

Let's look at floor painting, typically done as a DIY kit. This is the cheapest upfront cost and is usually around $1-$2/sq ft. The downside is the surface tends to fade and chip soon after application.

Epoxy floors are the next in line and are quite a bit more ranging between $5-$8/sq ft. These are far more durable than paint, but can turn yellow, fade and even crack as they are not flexible. The other downside here is they are high in VOC's, take 3-4 days to install and usually take 7 days to cure before you can use your garage again.

Our method, Polyaspartic coating, is a more recent technology that is exceptionally low in VOC's and is unmatched in both strength and durability. They are generally the same price as epoxy floors upfront but tend to last much longer because they are 100% UV resistant and far more flexible. Our product is more resistant to chemicals, 100% antimicrobial and 100% bacteria resistant. The point of emphasis most of our customers love however is the fact that your garage can be installed in one day used again in 24 hours!

Will my floors be very slippery?

The flake floors, and our quartz floors, are slip-resistant when wet or dry.  This makes them ideal for most indoor and outdoor applications. Don't let the shiny look fool you, the floors have a slight texture that makes for a great gripping floor surface.

How does Polyaspartic differ from Epoxy?

Polyaspartic coatings are a type of industrial coating that is known for its durability and fast cure time. Unlike epoxy coatings, which can take several days to fully cure, polyaspartic coatings can cure in as little as two hours. This makes them a popular choice for applications where a quick turnaround time is necessary, such as in the automotive industry. Polyaspartic coatings are also more resistant to chemicals and UV light than epoxy coatings, which makes them suitable for use in outdoor environments. They are typically applied in multiple layers, with each layer being allowed to cure before the next is applied. Overall, polyaspartic coatings offer many advantages over epoxy coatings, including faster cure times, improved durability, and greater resistance to chemicals and UV light.

Can my floors be done in winter?

Its year-round usability is just one of several advantages that polyaspartic coatings have over epoxy coatings. There is no need to wait until the weather warms up in the spring to enjoy the benefits that a new garage floor coating provides.  In fact, you may be able to get your best deals during these months.

What is a Polyaspartic Coating?

Our polyaspartic garage floor systems consists of a colored tinted base coat, vinyl flake layer and a clear top coat for shine and durability.  Other additives can be used for traction if needed. Polyaspartic coating sets very quickly, so it requires at least two installers, making difficult for the DIY route.